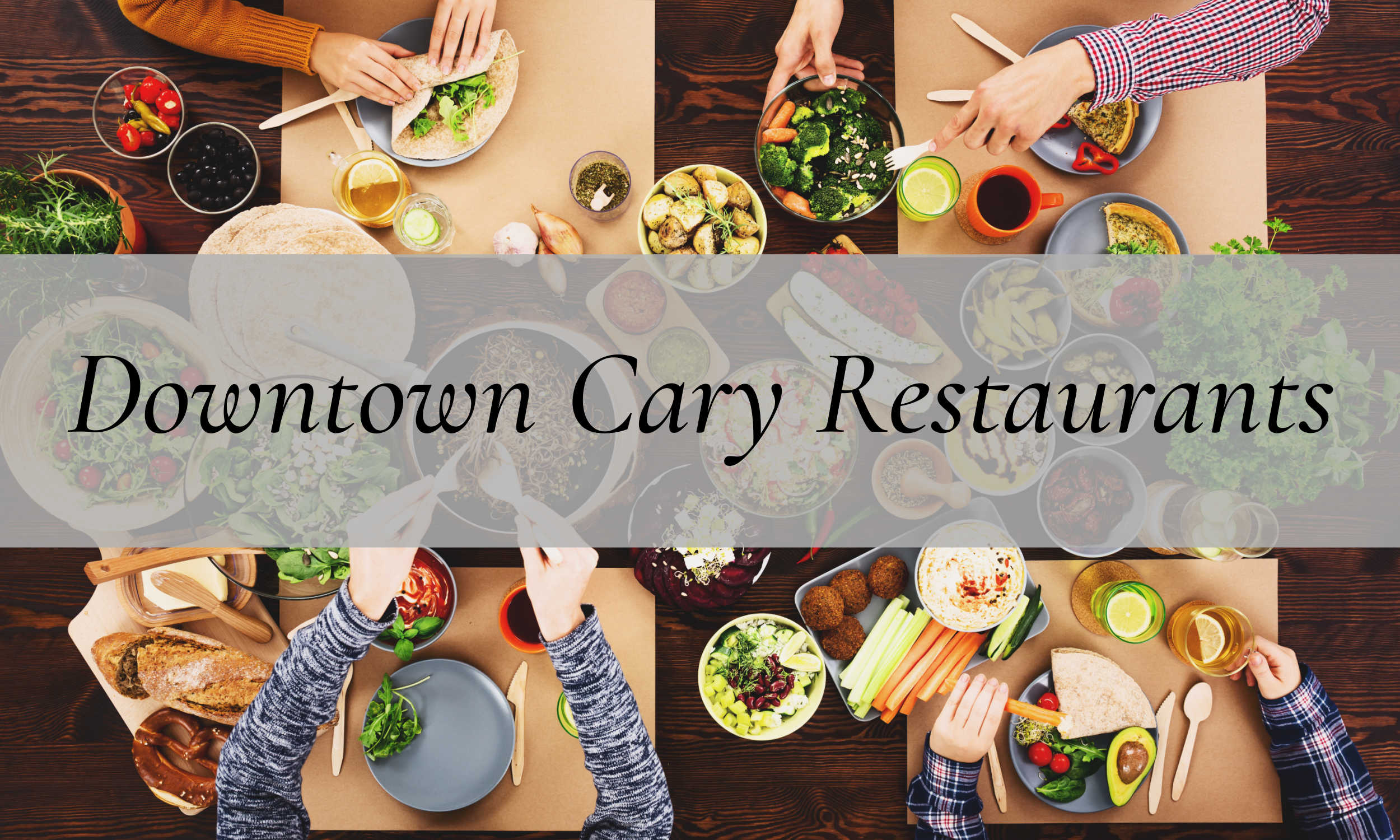 Downtown Cary Restaurants
Visit beautiful downtown Cary for a night at the theatre, shuffleboard at City Park, or a class at the Arts Center. And don't miss these great restaurants while you're there!
CASUAL
Downtown Cary Casual Restaurants
Ashworth Drugs – Old timey lunch counter inside historic drugstore serves old fashioned favorites like egg salad, milkshakes and the best hot dogs in town!
Bosphorus – Simple atmosphere, phenomenal Turkish and Mediterranean food!
Big Dom's Bagels – Big, chewy bagels. Handmade and boiled like they should be. Grab and go location.
Crosstown Pub & Grill – "Pub Grub" like wings and nachos to chef's menu such as Oven Roasted Fish Tacos.
Havana Grill – Cuban cuisine and Friday night Karaoke!
Kababish – Authentic, modern Pakistani cuisine.
La Farm – Rustic bread bakery with full breakfast, lunch and dinner menu.
Pizzeria Faulisi – Locally milled grains and locally grown veggies create the perfect pizza at Faulisi!
Tapei 101– Authentic Chinese and Taiwanese food.
Pro's Epicurean Market – combination market, cafe and wine bar serving authentic Italian and French Cuisine.
Postmaster – Fancy food, casual environment. Southern Cuisine.
Romas Italian – Pizza and subs, take out counter style.
Serendipity Gourmet Deli – Classic salads and sandwiches. Don't leave without a cookie!
Upper Deck Sports Pub – Burgers, tacos, sandwiches. Classic Bar Food
Woody's Sport's Tavern – Known as the "best wings in the Triangle!"
Corbett's Burgers and Soda Bar – Burgers made from in-house ground beef and over 250 varieties of glass bottle sodas.
The Big Easy – New Orlean's Cajun Creole style food.
Elegant
Downtown Cary Elegant Restaurants
The Veranda at Mayton Inn – casual southern cuisine in an upscale environment. Serving breakfast, lunch, weekend brunch and dinner.
The Matthews House – Historic events venue in a Greek Revival mansion, on manicured grounds.
Academy Street Bistro – Located in Ashworth Village this quaint Bistro has been called "intimate without being stuffy."
Maxmillian's Grill & Wine Bar – "Global dishes with an Asian accent"
Beer & Beverage
Downtown Cary Beer & Beverage Spots
Bond Brother's Brewery – A North Carolina craft brewery and taproom
Chatham Street Wine Market – A boutique wine shop and tasting bar
Chatham Hill Winery – the first urban winery in North Carolina
Cotton House Brewery – serving home brewed beer from hops grown on their farm as well as hard cider, Cotton House has a decidedly homey feel.
Crosstown Pub – Modern Irish bar with burgers and salads
SideBar Drinks & Co. – Neighborhood bar in downtown Cary serving cocktails, beer, and wine.
Pharmacy Bottle & Beverage – 16 taps on rotation, numerous wines, and a huge selection of cans and bottles from all over the country
Upper Deck Sports Bar & Pub – great bar with a fun atmosphere and free wifi
Woody's Sport's Tavern & Grill – locally owned sports bar with local entertainment
Bottle Dog Bites & Brews – Locally-Owned, over 100+ Bottles, 12 Taps, 74 Seat Tasting Room & Bar with Dog-Friendly Patio.
Dessert &

Coffee
Downtown Cary Dessert & Coffee Spots
Annalore's German Bakery – Authentic German pastries made from scratch!
Brew – Coffee Bar adjacent to the Cary Theatre
Fresh Local Ice Cream – The name says it all
La Farm – Artisan breads, pastries and seasonal items made by hand.
Once in a Blue Moon – Wedding and other specialty cakes, pies and pastries.
Vida Dulce – amazing homemade ice cream, popsicles, fruit waters and more!