Indoor Playgrounds & Activities around Raleigh for a Cold or Rainy Day​
Indoor Playgrounds Raleigh NC: Whether it's a blustery winter day or a wet summer one, there are plenty of indoor playgrounds and activities in Raleigh and the surrounding areas when you need to get out of the house and the weather isn't cooperating.
Kids Activities
1. Marbles Kids Museum
Marbles Kids Museum – This museum is downtown Raleigh is designed for children ages 1-10 to engage in play-based learning. some examples of the amazing exhibits at Marbles:
TODDLER'S HOLLOW – This exhibit designed for children under 3, gives toddlers the opportunity to practice their walking, crawling and balancing while exploring through creative and pretend play.
MONEYPALOOZA – Kids learn how to earn, save, build budgets and make smart money choices in the Moneypalooza exhibit at Marbles Kids Museum.
2. Funzone at Hope Community Church
Funzone at Hope Community Church – This one is a word of mouth gem! Hope Community Church makes their indoor playground in the Raleigh area available for free to anyone who wants to play, anytime their doors are open. For more information you can call them at 919-629-6570 or message them at their Facebook page. Located on Williams Street in Apex.3
3. Rainbow Room Indoor Playground
Rainbow Room Indoor Playground – This indoor playground in Raleigh is open Monday – Friday from 10:00am – 2:00pm. Admission is $5 for kids aged 2 and over. Located on Glenwood Ave in Northwest Raleigh.
4. Snickerdoodles Creative Playspace and Cafe
Snickerdoodles Creative Play Space and Cafe – This indoor play area is open Monday – Friday and is geared toward children ages 6 months to 6 years old. They have an art studio, creativity room and a cafe with kid friendly treats and parent friendly treats. Located on Lynn Road in North Raleigh.
5. Romp and Roll Indoor Playground
Romp and Roll Indoor Playground – Designed for kids ages 3 months to 5 years, Romp and Roll is designed to meet the developmental needs of kids in that age group. They offer Open Gym in addition to classes, Kids Night Out's, and family events. Located in North Raleigh near Capital Blvd & I-540. Their kid friendly gym equipment includes:
6. Coconut Charlies Bump n Bounce Indoor Playground
Coconut Charlies Bump n Bounce Indoor Playground – This "soft" indoor playground in Raleigh is designed for kids who are crawling up to age 12. They have a separate area for toddlers. The play space consists of "jungle" type equipment and multiple inflatable bounce houses and slides. Located off Six Forks Road in North Raleigh.
7. Kidzu Kids Museum
Kidzu Kids Museum – The Kidzu Children's Museum in Chapel Hill is an 8500 square foot space for kids infant through tween to explore and learn in a hands on way. Some of the fantastic exhibits include: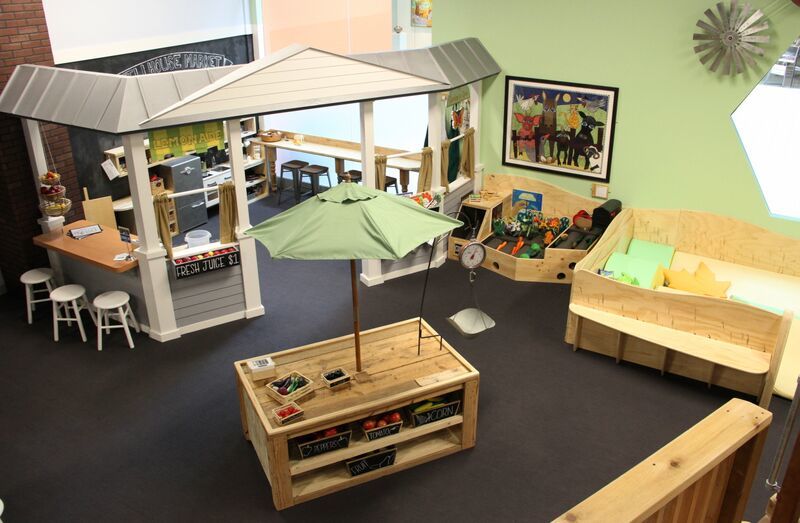 FARM TO FORK – Kids can imagine themselves along any part of the farm to fork chain, preparing foods in a restaurant, weighing produce and selling it at market or eating it in the cafe for an *almost* true to life experience in organic farming.
THE MAKERY – THE MAKERY IMMERSES KIDS IN SCIENCE TECHNOLOGY, ENGINEERING AND MATH, GIVing them the opportunity to use real tools, real materials and their imagination to create and learn. The museum hosts local artisans, craftspeople, inventors and scientists to share their skills with the children.
8. Notasium
Notasium – Notasium is a music school with locations in Cary and Durham offering a music based indoor play space for kids. The 4500 square foot play space is designed to make music learning interactive!
2 Bounce Houses
Giant Floor Piano
Giant "Guitar" Slide
2 Story Beat Box
Soundproofed Karaoke Booth
Greystone Indoor Recreation Center
9.Greystone Recreation Center Indoor Playground- Greystone is a free indoor city playground located on Sawmill Road in West Raleigh. The playground is designed for kids ages 5-12. The climbing structure and 8 foot rock wall sits on top of a rubber safety surface. Free activities like this tend to fill up quickly when the weather is bad, so be sure to check Google real time activity levels.
10. Angel Island Fun Park
Angel Island Fun Park is a new indoor recreation center in Cary for ages 8 and under. Angel Island has a trampoline zone with foam pit, foam padded climbing sets, slides, merry go round and a private party room. They offer daily rates and a monthly pass.
11. Skyzone
Sky Zone – Part trampoline park, part sports court, Skyzone allows you to play your favorite activities on their unique trampoline courts. You can play basketball, dodge ball, dive in their foam pits or simply jump freestyle.
12. City of Raleigh Indoor Pools
Swimming! – Swimming might not be something you think about as an indoor activity in Raleigh, but we actually do have multiple options for indoor swimming! We even have a small indoor water park! You can find indoor swimming opportunities at the following City of Raleigh pools.
13. Indoor BMX Track
Indoor BMX Track! – Have your kids been itching to get out of the house and ride their bikes, but it hasn't stopped raining or it's too cold? Check out Daniel Dher's Action Sports Track! Whatever kind of wheels you're on, BMX, scooter, inlines or skateboard, Daniel Dher's is the place for you!
14. Triangle Rock Club
Go for a Climb – Are your kids climbing the furniture and the walls? Let them challenge themselves and get some exercise at Triangle Rock Club! Kids as young as 4 can rent the equipment they need to try their hand at rock climbing at Triangle Rock Club. They have two locations in the Triangle, one in North Raleigh and one in Morrisville.
15. Major and Minor Museums
Museums are a great indoor activity in Raleigh for all ages. Most people are familiar with the major museums in Raleigh. If you're not, definitely check out the NC Museum of Art (don't miss their fantastic outdoor park with exhibits when the weather is nice), NC History Museum, and the NC Museum of Natural Sciences…you could spend days there and not see everything.
But many people aren't familiar with Wake County's mini museums.
Historic Oak View Park
Historic Oak View is a 19th century historic farmstead. The farm house, it's gardens and outbuildings are all available for self-guided tours and are interesting in and of themselves. There are animals in the barn and an outdoor "summer kitchen" where you can see how food was prepared during that period.
There is also a number of permanent exhibits in the on-site mini museum. Since NC was a big cotton producing state, the museum tells the history of cotton farming in North Carolina, including the machinery involved in the production. Kids can see and handle cotton from plant to fabric.
Yates Mill Park
In addition to the stunningly beautiful stone mill, large lake and walking trails, Yates Mill Park is home to a small natural science museum. Kids can learn about the plants and animals that inhabit the surrounding ecosystem.